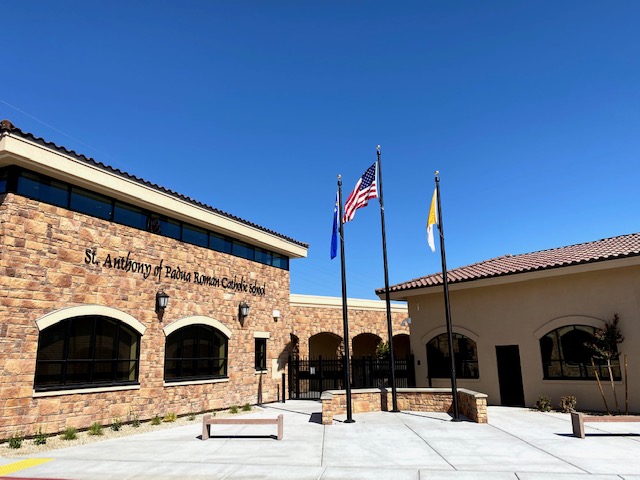 Fast Facts
Location

Henderson

Grades

Pre K – 8

Enrollment

361

Class Sizes

27

Student to Teacher Ratio

17 to 1

Before and After Care

Available
Our Mission
St. Anthony of Padua Catholic School aspires to be a faith-filled center of academic excellence passionately grounded in our Catholic tradition. It will be a place where all students are empowered to succeed, to grow in knowledge of the faith, and to be 21st Century learners through discipline, accountability, and global responsibility.
Programs
Academic
STREAM (Science, Technology, Religion, Engineering, Arts, and Mathematic) education enables our students to inquire, think, thrive, investigate, and innovate to succeed and thrive in our ever-changing world. STREAM is a framework for creative instruction that uses technology to advance the development of learning standards and foster intuitive and critical thinking skills. Art, Music, Library, Science Lab, Technology Lab, Makerspace, Fabrication Area with 3-D Printing
Extracurricular / Co-curricular
Altar Servers, Campus Ministry, Weekly Mass, Community Service, National Junior Honor Society, Student Council, Photography, Theater, Forensics, Art Club, Chess, Band, Choir, Drama Ministry, Yearbook, Journalism, Geography Bee, Field Trips, Spelling Bee, Language, Math Counts, Science Fair, Science Olympiads, Robotics and Coding, Broadcasting Green Room, Sound Booth, Stage
Catholic Schools' Sports League
Cheer, Soccer, Cross Country, Volleyball, Golf, Boys Basketball, Girls Basketball, Track, Softball
Adaptive Education Model
School Nurse and Counselor on staff with learning support and accommodation plans available.
Admissions
Tuition:

Active Parishioner Rate: $9,100

Registration Fee:

$500 + Application Fee $75

Registrar Contact:

Ms. Lynsey Smith
(702) 914-2175
Testing Dates:

Testing is on-going.

Enrollment Dates:

Enrolling Now

Open House:

Appointments for tours available upon request.

School Tours:

Families are always welcome! Please call or email to set up an appointment.

Financial Aid:

Fill out the FACTS application and a write a letter to Mr. Blanc explaining your particular circumstances, allowing our Board to make determinations about the financial aid for which your family is eligible. Access to "Apply Now" is linked here.